SmileStyler® Aligners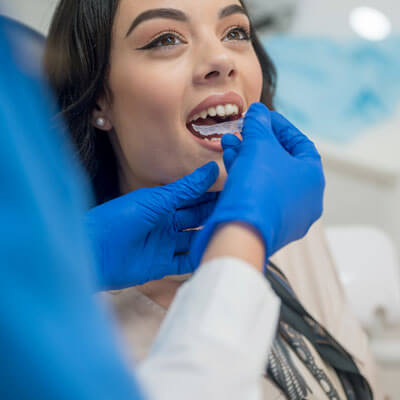 When it comes to choosing an aligner solution that provides outstanding results, the choice is clear—SmileStyler®, Australia's first clear aligner. It is an easy and reliable method to get your teeth back into alignment.
To start, only the first set of custom-made aligners is produced, covering a 6-12 week period. Each aligner is worn for one to two weeks, before moving on to the next one. Once the first set is complete, your dentist takes another 3-D scan to ensure the next set fits perfectly when the aligners are produced. This also avoids unforeseen delays and costs during treatment.
Easy and Convenient
SmileStyler delivers to your dental office faster than any other aligner manufacturer—from case approval to your practitioner in under a week. Because SmileStyler is delivered in phases or six sets of aligners at a time, each set of aligners is manufactured from current 3D scans of your teeth, so the next set always fits perfectly. In comparison, Invisalign® and ClearCorrect produce the full amount of sets at the beginning of the process, which means adjustments are often necessary after the last tray.
Our aligners allow you to eat the foods you want, brush and floss your teeth, and still end up with the amazing smile you've always wanted. The minimal design means it is barely visible, so you won't feel self-conscious wearing it or feel compelled to take it out before important meetings or social occasions.
The process generally concludes after three to six stages of scans, and aligner cycles every 6 to 12 weeks. The overall process usually takes between 24 and 72 weeks. Designed and manufactured in our state-of-the-art Australian facility, you get the results you and your dentist expect—a smile that can light up the room.
At SmileStyler, you have the support and expertise of clinical professionals throughout your treatment, so the choice is:
C—Certified Australian professionals
L—Leading technology
E—Easy to get started
A—Australian made, owned and operated
R—Results for every smile
Start the Process
Contact our practice to learn more about this option. Call us today!
CONTACT US »

SmileStyler® Aligners Cannington, East Cannington WA | (08) 9356 3077