SureSmile® Clear Aligners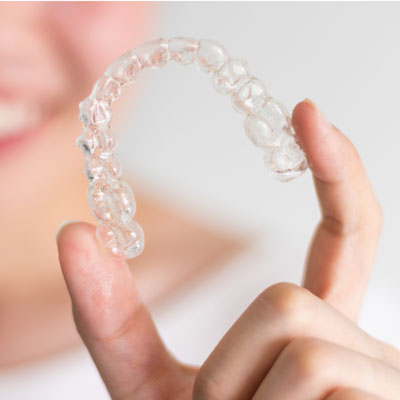 Do you have misaligned teeth that you'd like to correct, but dread the look of traditional metal braces? We've got good news—with SureSmile® clear aligners, you can get a straighter smile without the need for metal wires or brackets.
We're proud to offer SureSmile to patients who may be experiencing
Slight tooth crowding
Minor misalignment
Minor bite problems
And more
What to Expect
To begin the aligner process, you'll meet with our dentist, who will take scans of your teeth to formulate your own custom treatment plan. Once approved by you, the lab creates your trays, and you can return to begin the program.
We'll provide you with a full estimate of how long you'll need to wear your trays. Returning to our practice for infrequent check-ups throughout the process ensures everything is moving as it should.
Trays should be worn for the recommended minimum of 22 hours each day for best results. Failure to do so may not provide the expected results, and may prolong the length of time you must wear your trays. Only remove your trays for eating and oral health care. You should continue to wear your trays as you sleep.
The process is pain free, though you may experience some pressure when you receive your first set of trays, as well as subsequent new sets of trays. This is because each new set of trays is designed to shift your teeth ever so slightly into their final destination.
If you experience pain or discomfort that doesn't subside after a day or so, we recommend booking an appointment with our practice.
Come in for a Consultation
Because each patient's goals are unique, it's difficult to outline your care plan until we see you in the practice.
Call us today!

SureSmile® Clear Aligners Cannington, East Cannington WA | (08) 9356 3077