Crowns and Bridges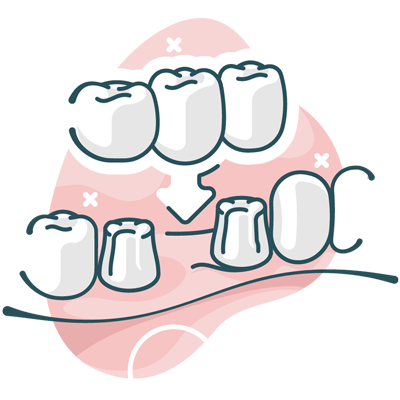 Our team is proud to offer you advanced dental services to help rebuild the smile of your dreams, which includes crowns and bridges to help replace one or more missing, chipped or cracked tooth.
Crowns and bridges will be perfectly colour matched with your natural tooth and made of a durable material that allows them to function and look like your natural teeth.
Here's a bit more about the process for each.
Crowns
A dental crown is a tooth shaped covering that fits over a compromised natural tooth to help keep its integrity and strength. A patient may be a candidate to receive a dental crown if they've chipped their tooth, have received a root canal, or have a tooth that's been heavily filled.
In our practice, we use strong ceramic to craft custom crowns for patients, which looks and functions just like their natural tooth.
Bridges
Simply put, a bridge is an extension of a crown. A bridge makes use of the natural teeth on each side of your missing tooth, essentially using them as an anchor. Both natural teeth on each side of the missing tooth will also receive a crown, with the "bridge" going where the missing tooth is.
A dental bridge may be an ideal choice for individuals who don't have adequate bone mass to receive a full implant.
Frequently Asked Questions
How will I know if I'm a good candidate for a bridge or crown?
We're happy to schedule a consultation with you so that we can get a better idea of what's going on in your mouth and take a look at the best options for you. We'll be able to determine your candidacy at this visit, as well as present you with other options that may work better.
I'm a smoker. Can I still have a bridge or crown?
Yes, if you're a smoker you may still be a candidate for a bridge or crown. We'll need to examine you in person to make sure it's the best option for you.
How long can a bridge or crown last?
When properly taken care of, it's possible for a bridge and crown to last for years—in some cases, 10-20. This all depends on whether or not you take care of your oral health—that means brushing and flossing with regularity every day and continuing to stay up to date with your regular dental visits.
We do participate in payment plans and do our best to keep care affordable for all patients, as well as accept various health funds. Learn more by contacting our practice or scheduling your consultation.
Schedule Your Visit
If you're wondering if you're a candidate for a dental crown or bridge, we'd love to speak with you and help you learn more about the best options for your unique needs.
Get started today by contacting us to book an appointment—we can't wait to welcome you to the practice!
CONTACT US »

Crowns and Bridges Cannington, East Cannington WA | (08) 9356 3077