Tooth Extractions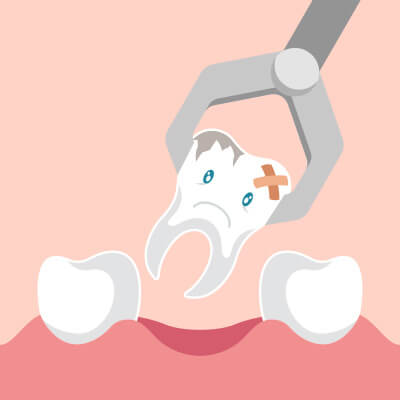 There may be a number of reasons you're looking for a Cannington dentist who can remove a tooth—but at the end of the day, selecting a practice with your best interest at heart, as well as your oral health in mind, should be your top priority.
At our practice, we want you to know that we're here for you, and we'll do everything we can to make your experience with us pleasant and comfortable.
We're proud to use state-of-the-art technology when it comes to tooth extractions, and invite you to learn a bit more about the procedure below. If you have questions and to determine your candidacy, please contact us today—we'd love to speak with you.
Removing Dead or Infected Teeth
If you have a tooth (or multiple teeth) that have experienced trauma, it's possible that the root and nerve of the impacted teeth has died. If no root canal or crown was performed, you may need to have the tooth removed.
When an unhealthy tooth remains in your mouth, infection can spread to nearby teeth, compromising them as well. That's why it's best to have your tooth extracted at the first indication that it should be removed—it will ultimately protect your oral health in the future.
One of the most common reasons to have a tooth, or a few teeth pulled, is when your wisdom teeth come in. Generally, this happens between the ages of 16 and 25.
Wisdom teeth must be removed because they can cause crowding in the mouth, which can cause teeth to shift, change position, cause trauma to nearby teeth as they intrude on their space, and even make it difficult to brush or floss between them, ultimately compromising your oral health.
The good news? You don't really need your wisdom teeth for anything, so having them removed won't cause any long-term damage. Our team is experienced in helping patients just like yourself experience a comfortable and relaxed extraction process, and we'll happily explain everything along the way so there are never any surprises in your treatment.
If you have one or multiple teeth that needs to be removed, we'll begin by taking x-rays of the affected teeth and area to confirm extraction is needed. From there, we'll numb your mouth and teeth so that you won't be able to feel a thing—there will be no pain at all during the procedure.
While some patients may feel pressure or hear cracking noises, please know that this is entirely normal. To help tune out any sounds of dental drills, we encourage patients to bring headphones so they can listen to music or watch a television show on their phone.
Once your tooth is removed, we may pack your mouth with gauze to help manage any bleeding, and provide you with a prescription for pain medication following the procedure. We recommended that you don't return to school or work for a couple of days as you heal.
We'll provide complete post-operative instructions upon your arrival, and schedule a follow-up visit to make sure everything is healing wonderfully.
For nervous or anxious patients, we're proud to offer sedation options so that you can sleep through your treatment—we're happy to discuss this with you at your consultation. We also provide nitrous oxide to help calm nerves and make the experience more pleasant for you. We promise to keep your best interest at heart always.
Learn More Today
If you're in need of a tooth extraction, contact our team today to learn more. We look forward to helping you achieve your goals in oral health, and getting you on the path toward proper oral health care.
Find out about payment plans and more when you contact our practice. We can't wait to welcome you into our care.
Get started today!
CONTACT US »

Extractions Cannington, East Cannington WA | (08) 9356 3077