Dentures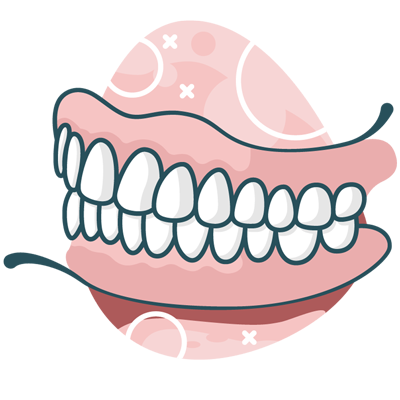 If you're missing multiple teeth, we're happy to speak with you about whether or not you're an ideal candidate for dentures. No matter your age, we believe that all patients deserve a beautiful, healthy smile, and we're happy to be able to help you achieve one.
The Denture Process
When you visit us for an appointment, we'll begin by taking a look at your mouth and discussing your ultimate goals. If we feel that dentures would be beneficial for you, we can begin the process.
First, it's important to understand that dentures come in multiple forms—most commonly, they are made of resin or metal. If you've never worn dentures before, we suggest starting with the resin dentures as they're much more affordable than metal dentures.
If you'd like to move forward with dentures, the process looks like this:
We'll discuss if any remaining teeth need to be pulled and what that looks like.
We'll let you know if dentures, bridge, or implant is right for you.
If dentures are selected, we'll begin by taking scans of your mouth to create your custom-fit dentures.
You'll return for follow up appointments when we receive your dentures so that we can ensure they fit, and make any adjustments needed.
We'll show you to properly care for you dentures and help you understand the required maintenance.
We'll schedule follow up appointments to ensure comfort and that your dentures are doing everything they're supposed to be doing!
Frequently Asked Questions
Will I be able to eat with dentures?
Absolutely. You'll be able to chew food and speak normally with your dentures. They're designed to look and function just as your natural teeth would.
Should I choose dentures or implants?
When we see you in the practice, we'll let you know which may be the better fit for you. For a patient who has just one or two teeth to replace,
dental implants
may be the better choice. For patients that have several teeth or even need to replace an entire mouth of teeth, dentures are likely the better option.
How will I know if I am a candidate for dentures in Cannington?
When you visit our practice for your first appointment, we'll carefully examine your mouth and then speak with you about your ultimate goals. We'll recommend the treatment for you that will bring you your desired results efficiently and safely. If something else exists for you that will offer better results than dentures, we will surely let you know.
Dentures should not be painful, though they can take some getting used to and achieving a proper fit can take time. We want your dentures to be comfortable when you wear them, so if they are giving you any problems, please let us know immediately.
Do you accept payment plans for dentures?
Yes, we're happy to work with all budgets and offer payment plans to patients who need to take advantage of paying over time. We can speak more about the best option for you when you visit us for an appointment.
Find Out If Dentures Are Right For You
Ready to unlock a picture-perfect smile? We're here for you. Contact our team today to book your appointment and find out how dentures can positively impact your oral health functionally and aesthetically.
Get started today. We can't wait to help you achieve your goals.
CONTACT US »

Dentures Cannington, East Cannington WA | (08) 9356 3077