Emergency Dentist Cannington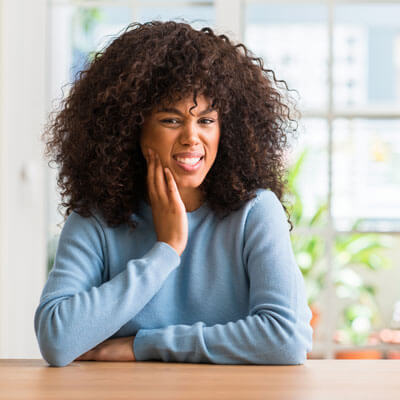 At Avadent Dental Centre, we're proud to offer care for patients when they need it most—especially when they're experiencing a dental emergency. Our team is well-equipped to provide a range of emergency services.
If you're experiencing a dental emergency, give us a call as quickly as possible to discuss your options and be seen.
Types of Dental Emergencies
Dental emergencies come in all shapes and sizes—some require immediate attention from our team, while others are better suited for an emergency room. If you are bleeding from the mouth or face, we recommend visiting your local urgent care center or emergency room as medical attention may be required.
Ring us if you're experiencing any of the following:
Inability to sleep from pain in the mouth that's only gotten worse
Sudden facial swelling around the mouth or jaw
Chipped or knocked out tooth
Oral trauma
Oral infection or tooth pain that persists for more than 48 hours
Frequently Asked Questions
What happens if I lose a tooth filling?
As soon as you realize that you've lost a tooth filling, give our practice a call to book an appointment. In the meantime, you can cover the cavity with sugar free gum, which can stop sugar from entering the cavity—this can cause extreme pain. You may also purchase an over-the-counter dental cement as well as take an over-the-counter pain reliever.
What should I do if I break my tooth?
Even though the enamel that covers your teeth is among the hardest surface in your body, your teeth are still subjected to cracks, chips and fractures. If you have broken a tooth, you should contact us straightaway to schedule an appointment. If you're experiencing severe mouth trauma and excessive bleeding, you may want to visit your local emergency room for medical attention. If you have your tooth or the broken portion, bring it with you to your appointment as it's possible it can be placed back into your mouth.
What can I do to relieve my toothache at home?
If you're having tooth pain, we recommend trying the following while at home. Brush and floss your teeth to help get rid of anything that may be stuck between your teeth. Take an over-the-counter pain reliever—however, do not place a pain killer directly onto the gum line. If swelling is present, place a cold compress on the outside of the cheek. Lastly, contact our practice to book a visit if the pain persists.
Is emergency dental care expensive?
If you need emergency dental care, we can work with a variety of budgets to help you get the care you need. We're proud to offer payment plans that are affordable—inquire when you visit our practice next or simply give us a call.

We're Here for You
If you're experiencing a dental emergency, contact our team today to get help. We reserve regular business hours each day to ensure we can meet the needs of our emergency patients as quickly as possible.
To book your visit, give us a call.
CONTACT US »

Emergency Dentist Cannington, East Cannington WA | (08) 9356 3077