Meet Dr. Joy Er, Dentist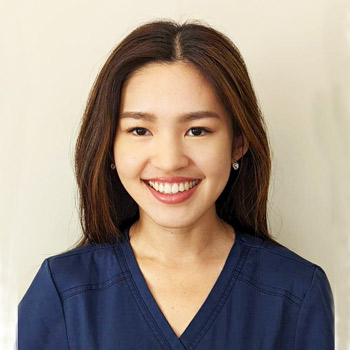 Dr Joy completed her Doctor of Dental Medicine (DMD) at UWA. To stay abreast of the latest in dentistry, she regularly takes continuing education courses.
To date, Dr Joy has primarily taken courses on oral surgery and restoratives. Dr Joy has completed her certification to treat patients with the Invisalign Go! clear aligner orthodontic system, allowing her to treat simple or moderately complex cases. She is excited to combine this with other aspects of cosmetic dentistry to be able to provide her patients with all available options for smile makeovers She's interested in pursuing more knowledge in aesthetic dentistry, clear aligners and implants in the future. "I like how there's so much to learn and expand in dentistry."
Providing Personalised Care
What Dr Joy enjoys most about working at Avadent Dental Centre is how dynamic the working environment is.
"I enjoy having chitchats with different people, and providing personalised treatment for each person depending on their motivation, goals and circumstances."
Finding Fulfillment Helping Patients
For Dr Joy, it's rewarding to make every dental visit an enjoyable and stress-free experience for patients of all ages. She enjoys working with patients to help them achieve their goals, see results and maintain a healthy and happy smile.
Life Outside the Practice
When Dr Joy isn't working, she enjoys painting (mostly portraits of her dogs), working out, figure skating, collecting vintage tea sets, and travelling. She has two Shih Tzu mixed-breed fur babies, Odie and Nugget.
Dr Joy also works rurally (in Northam twice a week).
Book an Appointment
Contact us today to schedule an appointment with Dr Joy! She speaks English and Mandarin.

Dr. Joy Er | (08) 9356 3077