Mouthguards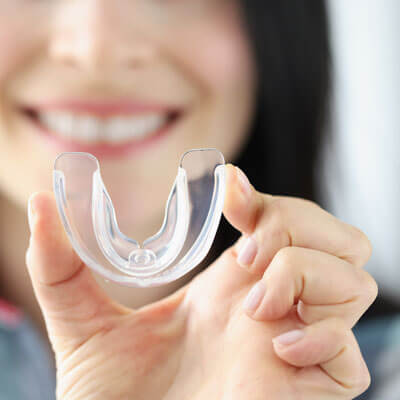 Contact sports like rugby, footy, boxing and martial arts can increase the chance of dental injuries and concussions.
With a custom-crafted sports mouthguard, you can safely shield your teeth and gums from traumatic injuries, reducing the chances of
Lacerations to the cheeks, lips, and tongue
Broken or chipped enamel
Knocked-out teeth
Concussions
Jaw fractures
Facial fractures
By choosing a customised and professionally-fitted sports mouthguard, you'll get much better protection and support than you would from an over-the-counter one. A custom-fitted mouthguard more effectively shields the teeth and gums, reducing the risk of teeth being broken or knocked out.
Custom-fitted mouthguards are also more durable and will last longer than off-the-shelf models. Plus, as an OTC guard is not shaped to your individual teeth and jaw, it can feel uncomfortable and interfere with breathing, speaking and drinking, all of which are important during exercise.
FAQ
Can I get a mouthguard in different colours?
Yes! When you get your mouthguard made at
Avadent Dental Centre
, you'll also have the ability to customise its look, selecting the colour or colours you'd like. Children love this because the mouthguard can match their uniform!
Should my child's mouthguard be checked regularly?
Yes, sports mouthguards customised for growing children will need to be re-evaluated regularly, as replacement of baby teeth with adult teeth will likely require some adjustments.
How to Care for Your Mouthguard
When you're not wearing your mouthguard, it's important to store it in a dry container and keep it out of the heat. Don't use hot water to clean it, as it could cause the material to warp. Gently brush your mouthguard with a nonabrasive toothpaste under lukewarm tap water, then dry it thoroughly. So that bacterial accumulation doesn't occur, make sure you clean it after every use.
Get Your Sports Mouthguard Today
Contact us today to request an appointment for you or your child.
CONTACT US »

Mouthguards Cannington, East Cannington WA | (08) 9356 3077