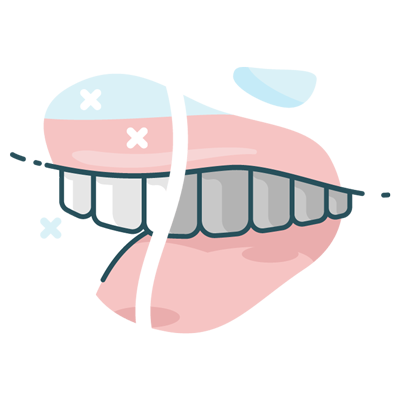 Teeth Whitening Cannington
If you're seeking a brighter smile, you've come to the right place. Avadent Dental Centre is happy to provide teeth whitening services that meet—and exceed—your needs.
Learn more about the types of whitening you can find at Avadent Dental Centre below.
Two Types of Teeth Whitening
In the practice, we're proud to offer patients options that fit their needs and goals—for faster results, in-chair whitening can provide the speed you're looking for, while take-home kits let you whiten teeth from the comfort of your own home.
Learn more about each below.
If you're looking for fast results, in-chair laser whitening may be the better option for you. During an in-chair appointment, you'll visit us for about one hour. During that time, we'll apply a whitening gel to your teeth that is activated when our blue light is applied. You'll sit under the light for 20-40 minutes depending on your desired shade.
Generally, patients walk out of our practice with teeth that are 10 or more shades whiter than when they walked in.
While the whitening process is entirely comfortable, you may experience slight pain or sensitivity in the teeth for a couple of hours following your visit, however, this will subside. Please note, laser teeth whitening will not whiten teeth that aren't natural, i.e., crowns, veneers or dentures.
For patients wanting to gradually whiten their teeth from the comfort of their own home, a take-home whitening kit offers a wonderful option.
You'll visit us initially so that we can take custom moulds of your teeth to create your trays. Then, we'll provide you with whitening gel that you'll place in the moulds at home—we'll show you exactly how to use everything so that you can achieve your desired results. The strength of the gel will be much higher than over-the-counter options, so your results will be great!
When you wear your whitening trays at home, you'll do so for roughly one hour each night for 10-14 days. After about two weeks, you'll obtain whiter, brighter teeth that you'll be proud to show off.
The best part? You can maintain your results by simply popping in your whitening gel and trays once or twice a month—all while sitting on your couch and watching television.
Please note, take-home whitening kits are not as 'strong' as in-chair whitening in order to protect your gums. You may experience slight sensitivity when whitening or immediately after, however it will subside. If you experience any prolonged pain or burning during or after your whitening session, please let us know ASAP so that we may make recommendations accordingly.
We want our patients to achieve the smile of their dreams safely and effectively.
Learn More Today
If you're interested in a whiter, brighter smile, we'd love to speak with you. Contact our team today to book your appointment and learn more about how we can help you achieve the smile of your dreams.
Get started today.
CONTACT US »

Teeth Whitening Cannington, East Cannington WA | (08) 9356 3077