Angel Aligners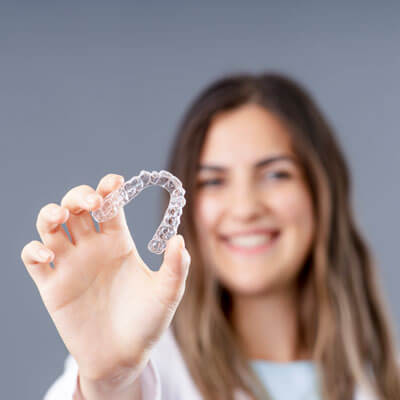 Angel Aligners are a clear aligner that's virtually invisible when worn. With no wires or brackets, these aligners are more comfortable to wear than traditional braces. Best of all, you can remove them whenever you want, so eating and cleaning your teeth is easier than ever.
Affordable and Convenient
This series of custom-made removable clear orthodontic devices gently move the patient's teeth into the proper position over time. Using innovative master Multi technology, this newly developed and more efficient treatment option can decrease the length of your treatment.
Each set of aligners is created on a case-by-case basis, with flexible time schedules. The length of treatment depends on the severity of the patient's issues, and may vary from as few as six months to 18 months or more.
Our aligners are also more affordable compared to Invisalign clear aligners.
How It Works
After consultation with our dentist, we design a precise treatment plan to transform your smile. Once the plan is approved, your unique custom-made aligners will be created.
Each set of aligners is worn for 20 to 22 hours a day, and changes to a new set of aligners every 1 to 2 weeks, as directed by our dentist.
The aligners will gently and gradually shift your teeth into place, creating the proper spacing. The shift may take as little as two weeks, according to your plan, until you reach your beautiful new smile.
Options Available
Angel Align Pro—features 7+3 days dual-material treatment consisting of two sets of
aligners at each stage to deliver faster alignment with the same commitment to quality. Using two types of aligner materials, which complement each other perfectly, can improve orthodontic efficiency.
Angel aligner classic—a series of custom-made removable orthodontic aligners similar to the Pro series. These have over 20 years of product development, and nearly one million patients have had their smiles transformed.
Talk to Us
Angel Aligners can be used for both adults and kids, but may not be suitable for everyone. Discuss the available options with our dentist to decide on the best choice for you.
CONTACT US »

Angel Aligners Cannington, East Cannington WA | (08) 9356 3077