Dental Implants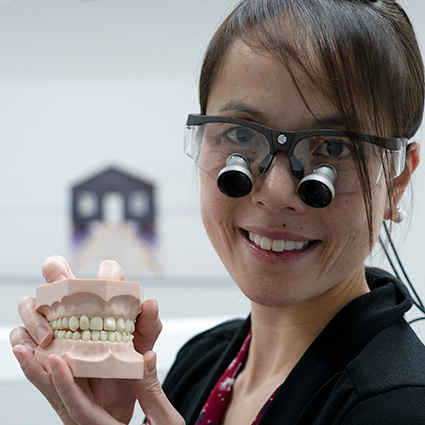 We take your dental health needs seriously—which is why our team is proud to provide dental implants to patients requiring cosmetic or restorative care for missing teeth.
When you choose us for your oral health care, you can rest easy knowing we've helped thousands of patients just like you experience the results they were looking for, and we can't wait to do the same for you.
What is a Dental Implant?
A dental implant is a titanium screw that is placed into the jawbone, and will ultimately be covered with a custom-made crown.
The strong titanium screw will replace the missing root of the tooth, anchoring the future crown in place so that it can function just as your natural tooth would have.
The dental implant process requires multiple visits across a few months, but ultimately is a wonderful long-term solution for those looking to restore their smile.
Dental implants require a few visits to the practice. During the first phase, we'll insert the titanium screw into your jawbone, which does require surgery in our practice. Over the course of the next couple of months, the screw will fuse with your jaw, anchoring it in place and making it very strong. Once the bone has grown around the screw, you'll come back for phase two.
During phase two, we'll create and place the crown over the implant. The dental crown will look and function just like your natural teeth—you'll be able to speak and eat normally. Patients love how natural dental crowns look!
The entire dental implant process takes roughly 3-6 months depending on your unique needs.
How do I know if I'm a candidate for a dental implant?

When you visit us for your consultation, we'll examine your mouth and discuss your ultimate goals. We'll also need to determine that you have adequate jaw bone required to hold the titanium post in place. If you aren't a candidate for an implant, we'll recommend another course of care that can still bring you incredible results.
Can I get a dental implant if I smoke?

In order to achieve optimal results, a patient who smokes must stop smoking for at least six months before we move forward with the implant process. If you are unable to stop smoking, we may recommend another treatment for you.
How do I care for my implant?

You should care for your dental implant just as you would with your natural teeth—this means brushing twice each day and flossing around the implant daily. You should also avoid eating "hard" foods and candies with your implant to help lower the risk of it breaking. With proper care, a dental implant can easily last for several years, if not longer.
Schedule Your Visit Today
Are you wondering whether or not you're a candidate for dental implants? We'd love to speak with you about your options and help you achieve your goals in oral health.
Get started today by contacting us to book an appointment—we can't wait to welcome you into our practice.
CONTACT US »

Dental Implants Cannington, East Cannington WA | (08) 9356 3077