Easter Basket Goodies: Choose This, Not That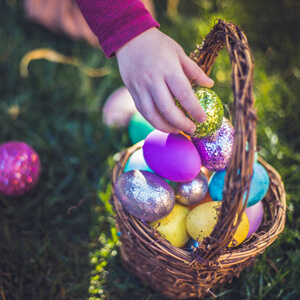 If you celebrate Easter, we bet you've been wondering what you'll fill your family's baskets with this year. While candy is usually the go-to for most people, as your partner in oral health, we wanted to offer some do's and don'ts when it comes to Easter basket treats.
This way, you can enjoy the day without having to worry about consuming too much sugar that could wreak havoc on your smile. Here are some of our top "skips" and "keeps" for this year.
Skip the marshmallows. In addition to being heavy in sugar, they're likely to stick to teeth, creating a haven for decay and bacteria.
Keep the dark chocolate. We know, it's hard to believe that your dentist would tell you to eat chocolate! But we understand that some candy in an Easter basket is good and fun for kids. Dark chocolate typically has less sugar and a great flavor. If you're adding a chocolate bunny to this year's basket, pick dark chocolate over milk chocolate.
Skip the jelly beans. Because they're so sticky and chewy, it's easy for them to adhere to teeth and get stuck in crevices.
Keep the eggs. Coloring hard boiled eggs is a long standing Easter tradition for many families. Eggs are rich in phosphorus, which is great for enamel. They're also high in protein, which can help protect teeth against acids that may cause cavities.
Skip the Cadbury Eggs. Not only is the treat high in sugar, but they contain corn syrup, which has been linked to a host of health problems when consumed too often.
Need a few non-candy ideas for an Easter basket? How about activity books with crayons or markers, sidewalk chalk, or stickers.
On behalf of Avadent Dental Centre, we'd like to wish all of our patients a very safe and "hoppy" Easter!